Education manager makes a 'slow' start at Berkshire's new wildlife centre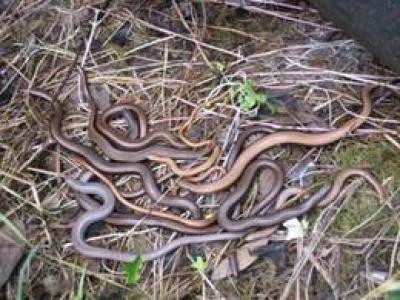 September 2011. Lynn Hughes, education manager with the Berks, Bucks and Oxon Wildlife Trust, is discovering lots of slow-worms - some of the beautiful and amazingly lively wildlife that children will see at the Woolley Firs education centre.
Thanks to a Heritage Lottery Fund grant, Lynn is working with teachers from schools in nearby towns, including Slough, High Wycombe and Maidenhead, to develop creative and exciting programmes for their visits.
"Children who may never have got up close to butterflies, newts and slow-worms before will enjoy mini-beast hunts, pond-dipping and discovery trails through the orchard, woodland and flower-filled meadows," explains Lynn.
"We'll make sure children and their teachers have a rich and varied experience here linked to the curriculum, and we'll develop wildlife activities to do in their schools too. I'll be working with teachers to create exciting events to suit their specific projects and themes."
Education centre to open in April
The education centre, which is due to open in April, will be in a renovated stable block at Woolley Firs, a 30 ha historic farm on the western outskirts of Maidenhead. Follow the project's progress on www.bbowt.org.uk
Lynn, who has 13 years' experience of environmental education projects in the UK and Africa, joined the Berks, Bucks & Oxon Wildlife Trust earlier in September. "This is a fascinating project," she said. "A classroom in a renovated stable block, the traditional farm, and all the wildlife right here - it's such a great resource for local children to enjoy."
Heritage Lottery Fund
Funding for the Woolley Firs education centre includes a £50,000 grant from the Heritage Lottery Fund and generous donations from Wildlife Trust supporters.
Stuart McLeod, Head of Heritage Lottery Fund, South East England commented: "Thanks to this project many hundreds of young people will be able to discover the wonders of nature on their doorstep which will aid biodiversity and environmental conservation in years to come."