| | | |
| --- | --- | --- |
| Please Help our Frogs!‏ - Offwell Woodland, Exeter, Devon | | |
Written by The Offwell Woodland & Wildlife Trust
Friday, 07 October 2011 15:36

Dear Frog supporters!
As an organization involved in wildlife and conservation of the natural environment we are writing to enlist your help in a grant competition organized by NatWest under the title Community Force. Essentially the scheme allows anyone over the age of 16 and resident in the UK to vote for a number of selected organizations. In each area, the three with the highest number of votes get a grant of £6000. We are one of the charities selected for inclusion.
Offwell Woodland & Wildlife Trust is a small charity which manages a 50 acre reserve at Offwell Nr. Honiton in Devon. If we receive this funding the money would be used to improve our wetland habitats specifically for frogs, toads and newts. Unfortunately we come within the Exeter area and therefore we are in competition with a number of large charities all vying for this money. For us to be realistic about obtaining the funding we really need to seek out as many people as possible willing to vote for us.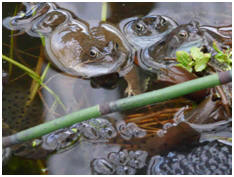 We hope your organization will be willing and able to support us in some way, maybe by forwarding this on to your own supporters or by members of staff voting for us. There is no cost involved and it can be carried out online or by free phone.
Many thanks
David Tilbury
Trustee - The Offwell Woodland & Wildlife Trust