One question that lots of people ask is - where have my tadpoles gone?
Of course, the reason that frogs lay so many eggs is that very few survive into adulthood, usually only a handful from each original clump. Both spawn and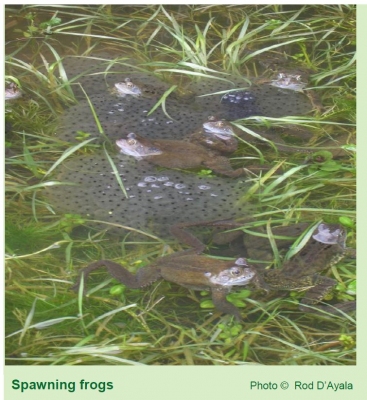 tadpoles are lost along the way through disease, predation, or simply too little food in the pond for them all to grow into froglets. Here are some of the reasons why so few often survive:
Environmental factors and disease
Not all spawn will develop into tadpoles, because some will be unfertilised, and some may be killed by late frost. There is also evidence that environmentally stressed spawn may be more susceptible to disease.
However, this is not usually a major problem for the population as a whole, because frogs lay far more spawn than is needed to maintain a healthy frog population.
Changes in tadpole behaviour
People often call us because their tadpoles are not moving when they first emerge, and they worry that they have died. In fact, this is entirely normal and within a few days they will wriggle off into the
submerged aquatic vegetation where they will graze on algae.

Once tadpoles have moved away from their spawn and become 'free-swimming', they often spend a good deal of time hidden away in vegetation etc. In
some cases tadpoles that have 'disappeared' have just become harder to find.

Predators


Ponds that provide a breeding site for frogs also creates a habitat for a host of other species, including some that happily eat tadpoles.

Fish: Fish are one of the top predators in your pond. Not only do they eat invertebrate animals, many also eat frog and newt tadpoles. For garden owners who want fish we recommend two ponds: a fish pond
(which will also contain wildlife) and a wildlife pond, so that the creatures that are most susceptible to fish predation have somewhere to survive. It is also possible to create refuges in your fish pond, by making densely vegetated shallow areas that the fish can't get to so easily. Your tadpoles, and many of your invertebrates, will be able to shelter there.

Invertebrates: A number of invertebrate adults and their larvae also see tadpoles as a source of protein. This again is entirely natural, and is part of the complex food web that exists within any pond. Large
invertebrate larvae such as great diving beetle larvae and dragonfly larvae, notably the hawkers and emperor dragonflies, are voracious predators and will happily attack a tadpole, or even an adult newt.
Invertebrate predators are also less likely to be deterred by toad toxins, so will also happily take toad tadpoles.
What can we do?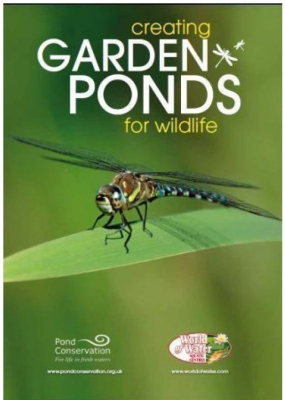 Pond ecosystems are extremely complex so trying to manage them in favour of a single species can be difficult and may have
unintended consequences. The best thing you can do to help frogs and their tadpoles is to be sure to provide a 'good' pond habitat: ponds with shallow,
warm water. If you are planning a pond you could design it with wildlife in mind. If you already have a pond there may still be things you can do to increase
its suitability for wildlife. For more advice and ideas have a look at our new booklet 'Creating Garden Ponds for Wildlife'
Acknowledgements: We would like to thank Dr John Baker for his advice with this article.
adapted/revised article from
Pond Conservation Summer Newsletter 2011