HWM 2022 Part 1 (on Zoom) - A non-native species symposium
Saturday, 05 Feb 2022 13:30 – 16:30
This event is online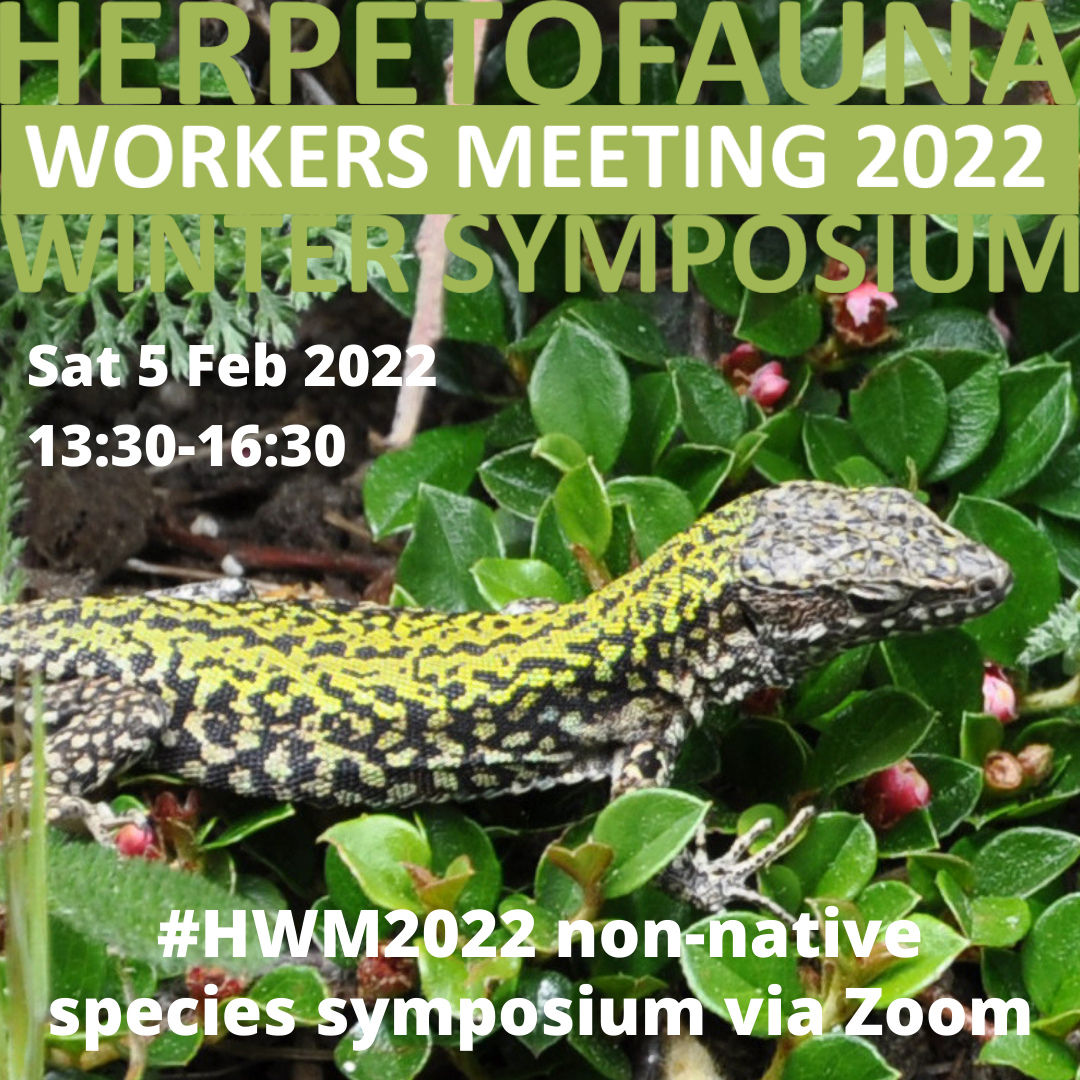 Due to the limitations posed by the COVID-19 pandemic the 2022 Herpetofauna Workers Meeting will be in two parts this year. The first of these will be an online (via Zoom) non-native species symposium on the afternoon of Saturday 5th February. All being well there will be a more traditional face to face meeting during the summer.
We are looking forward to partnering with Amphibian and Reptile Conservation for Part 1 of the 2022 HWM which will be held via Zoom. Themed around the challenges posed by non-native species in the UK, we are delighted to be able to welcome a fantastic speaker panel to discuss the latest research covering a range of non-native reptile and amphibian species including: Aesculapian snakes, midwife toads, alpine newts and terrapins.
We will also be discussing the impacts of climate change on herpetofauna with an interactive session including polls and a Q&A session, for what aims to be an exciting and informative afternoon.
Chaired by Nicola Morris (Trustee ARG UK, Chair Cornwall Amphibian and Reptile Group and SW Lakes Trust) our speakers will include:
Jim Foster (Amphibian and Reptile Conservation)
Ana Togridou (independent researcher, Hednesford UK)
Tom Major (University of Bangor)
Rob Gandola (Herpetological Society of Ireland), Ryan Boyle (NI ARG) and Éinne Ó Cathasaigh (RSK Ireland)
Steve Allain (DICE, University of Kent / Institute of Zoology, ZSL)
Suzie Simpson (DICE, University of Kent)
pdf You can download the programme here (510 KB)
This event is free for ARC Members and members of an Amphibian and Reptile Groups (ARG) and £5 for non members.
Registration closes at 11:59pm on SUNDAY 30th JANUARY
To find out more and purchase your ticket follow the link to the special ARC Trust meeting page