The Big Swab 2011 was a follow up to the highly successful 2008 survey. In the latter, skin swab samples were taken from over 3,000 amphibian from 120 sites across England, Scotland and Wales. Chytrid was found to be widely distributed across much of the UK, infecting all native amphibians and at least two non-native species.
The Big Swab 2011 re-surveyed almost all of the 2008 sites and included some new sites to extend coverage into previously under-representated areas.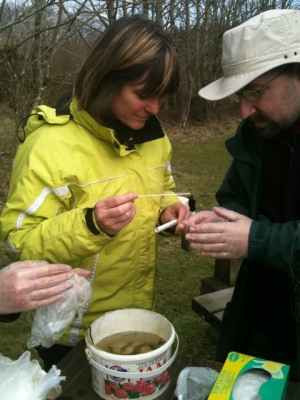 The re-survey of the 2008 sites provides an exciting opportunity - a comparative data set with which to ask the question 'where is chytrid now?'
Work in Progress
Surveyors have sent their swab samples to the Institute of Zoology where the project coordinator and researcher, Freya Smith, is analysing them. The full lab results are not expected to be completed until June 2012 but Freya has been able to pass on some initial findings:
No new infection was detected among the 2008 sites.
A handful of infected sites were found in newly sampled areas.
Infection rates within a population vary a lot within a year.
Effects on Infection
Although chytrid fungus is widespread we still don't know how it affects amphibians. There appear to be some effects on natterjack toads, but there have been no reports of mass mortalities and among other amphibian species there are no signs of rapid population declines.
At a conservative estimate volunteers have contributed 1,200 hours of field work to this project. The Big Swab is a model for partnership working between government, researchers and volunteers.
The Big Swab is funded by DEFRA.
Project coordinator: This e-mail address is being protected from spambots. You need JavaScript enabled to view it , 02074496621.
Downloads
The Big Swab 2011 Survey Protocol
Reports from the Field in 2011

Third update - The Big Swab 2011 - 5th April 2011
Second update - The Big Swab 2011 - April 2011
First update - The Big Swab 2011 - March 2011