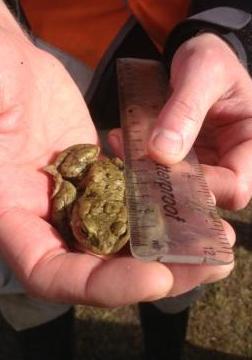 In 2013, Amphibian and Reptile Conservation and ARGUK launched a new project - ToadSize - that aims to investigate the impact of road mortality on toad populations, and how that is affected by toad patrolling. This is achieved by measuring male toads on their way to their breeding ponds.
In the 2013 season, we were delighted to receive over 750 records from 19 crossing sites, with some rather unexpected results, which showed that at the sites tested the most important factors were frequency of partol and distance form breeding pond. For more on this please download our powerpoint Toadsize 2013 results
We would also like to thank everybody who took part.
In the 2014 breeding season, we would like to repeat the ToadSize project, to gather additional information from both existing and new sites, and to test our preliminary findings. This will inform future conservation efforts. Therefore, once again, ARGUK and ARC would like help from the local ARGs and toad patrollers.
What we would like you to do
Measure the body lengths of 10 to 20 male toads per night, for several nights during a crossing period.
Count or estimate the number of toads moved by patrollers on each sample night.
Count or estimate the number of toads killed by traffic on each sample night.
Measure traffic volume at the crossing.
Site selection
We want measurements from sites where road mortality is known to be high. But we also need to compare these with sites where there is low mortality (e.g. quiet roads or roads temporarily closed to traffic), or no mortality. All types of site are welcomed, and if you or your ARG can organise data collection from one of each, then it would be a valuable addition to the project.
How to get involved
To get involved with ToadSize 2014, please download the recording forms:
ToadSize 2014 recording form in excel
ToadSize 2014 methods and recording form (.pdf)
If you can contribute to this citizen-science project to investigate the impacts of road traffic on common toads, then please contact Angie Julian (ARGUK Secretary)
This e-mail address is being protected from spambots. You need JavaScript enabled to view it or John Wilkinson (ARC Science Programme Manager) This e-mail address is being protected from spambots. You need JavaScript enabled to view it .
Health and Safety
The safety of volunteers is of paramount importance, and so participants in ToadSize should adhere to the safety measures recommended for all toad patrolling work.