South East Regional meeting set to be an interesting outlook on species protection in the UK with the following submission document on the subject of best practice and mitigation
MITIGATION AND BEST PRACTICE: AN URGENT NEED FOR A NEW APPROACH – KEVIN MORGAN OCTOBER 2012
'On a professional basis I've been involved with the conservation and mitigation of reptiles and amphibians for 23 years, even longer as a naturalist. Initially, mitigation was a case of last minute rescues, minimal budgets and environmental considerations that were very much on the back burner in any planning. Over time legislation became stronger, mitigation more thorough, and ecologists more professional. There was the need to make sure that survey work and mitigation was appropriate with relevant guidelines. However, in my view, and many others, with the current method statement approach surveys and mitigation are becoming even more rigid and risk adverse. It is no longer a question of mitigation guidelines but a rigid dogma, more like rules, restricting any flexibility for the experienced herpetologist.
I used to be proud of my skills and I enjoyed the challenges and strived to get the best outcome, what we call best practice today. I felt I was making a difference for the conservation of reptiles and amphibians whilst changing attitudes for the better. But with the current system such a flexible approach seems to be penalised with more paperwork, considerable delays, and even the rejection of licence applications.
Furthermore, there times when site mitigation is complicated and cannot be resolved in a method statement or by correspondence, times when a site meeting should be considered. After all, as an ecologist and ARG member, I would consider a site visit where issues were complicated before coming to a decision. However, it seems that site meetings in regard to issues with licence applications are not an option.
I addressed these issues at a SE regional IEEM conference a couple of years ago and the urgent need for change. This has not happened, and it is getting worse, further stifling any flexibility to the guidelines. I've become utterly frustrated by it all and feel that my 23 years of skills and experience is wasted and irrelevant, and I can no longer fulfil my role as a naturalist and a professional ecologist and member of IEEM'
Please download Kevin's discussion paper (below) which will probably spark a discussion at the Regional meeting of the ARG UK hosted by Hampshire Amphibian & Reptile Group at Marwell Zoological Park on the 17th November 2012
Mitigation & Best Practice Submission by Kevin Morgan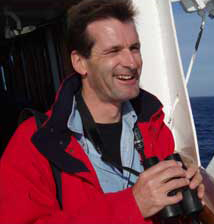 Kevin Morgan - Deputy Chair of the Surrey Amphibian & Reptile Group
Kevin is a naturalist with considerable experience from Antarctica to the Amazon, and from whale-watching to swimming with dolphins. He is also an ecological consultant, specialising in birds, reptiles and amphibians. He is a well respected speaker and organiser of ecologically sound tourist expeditions.