Derbyshire ARG: Pond clearance and restoration at Hoe Grange & Ballidonmoor Farms to benefit amphibians including protected Great Crested Newts
Aim of the project
To organise the restoration by de-silting of two large diameter, deep dewponds adjacent to the farmyards at Hoe Grange and Ballidonmoor Farms in the Derbyshire Peak District. Amphibian surveys at intervals from 1985 to 2019 at Hoe Grange and from 1985 to 2009 at Ballidonmoor Farm have shown that these ponds support great crested newts and are at the centre of a metapopulation with GCN being recorded at two smaller ponds in fields at Hoe Grange Farm. Smooth newt, common frog & common toad are also present at both sites.
The ponds had become silted up over the years, compounded at Ballidonmoor by leaf fall from adjacent woodland. Hoe Grange pond was known to have been completely de-silted in the early 1980s but since 1996 had become progressively dominated by Typha which also caused heavy siltation. Two Derbyshire ARG working parties at Hoe Grange in November 2011 & February 2019 had attempted to clear sections of the pond to keep some small parts as open water, but the density of Typha growth and depth of silt meant these were only temporary measures.
Derbyshire ARG surveys in 2009 for the Peak District National Park Authority's Pond Project had recommended de-silting of Ballidonmoor dewpond as it had only a few centimetres of free water on top of desilt but this work did not happen although clearance of trees and shrubs around the pond was carried out. By 2019 Ballidonmoor pond was fully silted up and become a bog with a grass mat completely covering the surface of the wet silt. The only method of restoring both ponds was to use machinery to remove the silt and take the it away to spread on the fields / farm muck heap.
All pond works were completed under Natural England licence.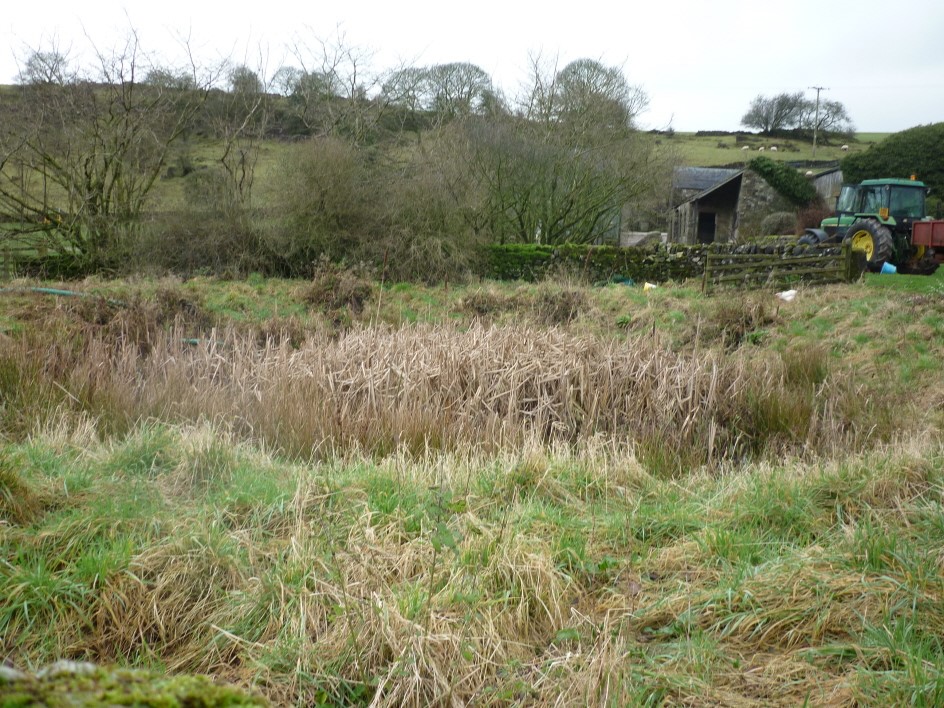 Hoe Grange Farmyard dewpond restoration report
The ARG UK 100% fund grant was put towards the cost of employing contractors and machinery to desilt this pond. Following a tender process, Daniel Spencer, who has extensive experience of dewpond restoration for the Peak District National Park Authority was appointed to carry out the work at Hoe Grange. Work commenced on 16th January 2020 and was completed on 17th January 2020.
Ballidonmoor Farmyard dewpond restoration report
The desilting of Ballidonmoor was carried out using funding from Defra/ Natural England for the purposes of creating new or restoring old dried up/silted up ponds in areas which may be subject to the new GCN District Level Licensing scheme in 2020/21. This offer was accepted as it would allow the Peak District National Park Authority to use their allocated funding for other pond restoration in the National Park.
Derbyshire ARG follow up to the pond restoration project
Group amphibian surveys of both ponds to record species present starting late March 2020. NOTE: The surveys have had to be cancelled due to the COVID-19 virus control measures introduced 24th March 2020. Depending on the date restrictions are lifted it is hoped to carry out at least one survey in late May / June 2020. A full survey will now commence in spring 2021.
Follow up surveys from spring 2021 on the southern pond after restoration from dry by Wildscapes (if done as planned in autumn 2020) to monitor amphibian colonisation.
Investigate Pinders Lane pond complex at Hoe Grange Farm and put in the calendar for a Derbyshire ARG working party to carry out pond management to cut back overgrowing scrub, do some desilting & repair of water supply from adjacent spring & overflow to the dewpond.
Raise funding to desilt the field pond north of Ballidonmoor Wood at Hoe Grange Farm.