The UK government's understanding of the risks presented by the COVID-19 virus is changing on a daily basis at the present time based on expert advice and modelling of the global epidemic. We are keen to minimise risk to all of our groups, their members and the wider public, and recommend that ARGs always take a precautionary approach.
Government advice is still that you must:
limit contact with other people
keep your distance if you go out
wash your hands regularly
do not leave home if you or anyone in your household has symptoms.
Updates: 3 July 2020 (from
www.gov.uk
)
Headline news England - Social distancing guidance in England is changing to "1 metre plus" and pubs, restaurants and hotels can reopen. Leicester is still experiencing a local lockdown.
Group activities
According to government advice, in England you may now spend time (outside) with groups of up to 6 unrelated persons or unlimited numbers from 2 households, provided you observe strict social distancing of at least 1 metre (with a face covering or 2 m without). In Scotland you can only have groups assembling from 3 households with a limit of 8 persons. In Wales you are allowed to meet with unlimited numbers of people from 2 households, and in N. Ireland up to 30 people who may be from different households .
In England and N Ireland, you should ideally stay 2m (6ft) apart, but if that's not possible, follow the "1 metre plus" guidance - using "mitigation" such as face coverings and not sitting face-to-face. In Scotland and Wales the 2 m distancing rule still applies.
Some group activities, such as committee meetings may be able to be conducted using voice or video conferencing facilities which pose no risk to spreading infection. Please be cautious at all times, and we suggest you always travel separately, minimise use of public transport (and wear a mask on public transport at all time).
Solo activities
We are now in a reduced 'lock-down phase' of epidemic containment, where in England people are able to visit non essential shops, bars and restaurants provided social distancing is maintained. We are also advised that individuals can take unlimited exercise each day such as a run, walk, or cycle. As long as you are not yourself (or any other person from your household) showing symptoms of the disease which are reported to be 'flu-like symptoms' - defined as a fever of above 37.8C or a persistent cough, in which case you need to be in self quarantine for 14 days. The advice is still to avoid public transport, or car sharing, do not go to crowded places such as parks, beaches or beauty spots, and always maintain a 1 m (preferably 2m) distance from others. From 6 July, in England, Wales, Scotland and Northern Ireland travel is unlimited.
Please do not take any risks.
Please be aware that as from May 13th different nations within the United Kingdom have started to introduce country-specific recommendations for precautions against coronavirus.
These are summarised here (taken from BBC news website on 03.07.2020).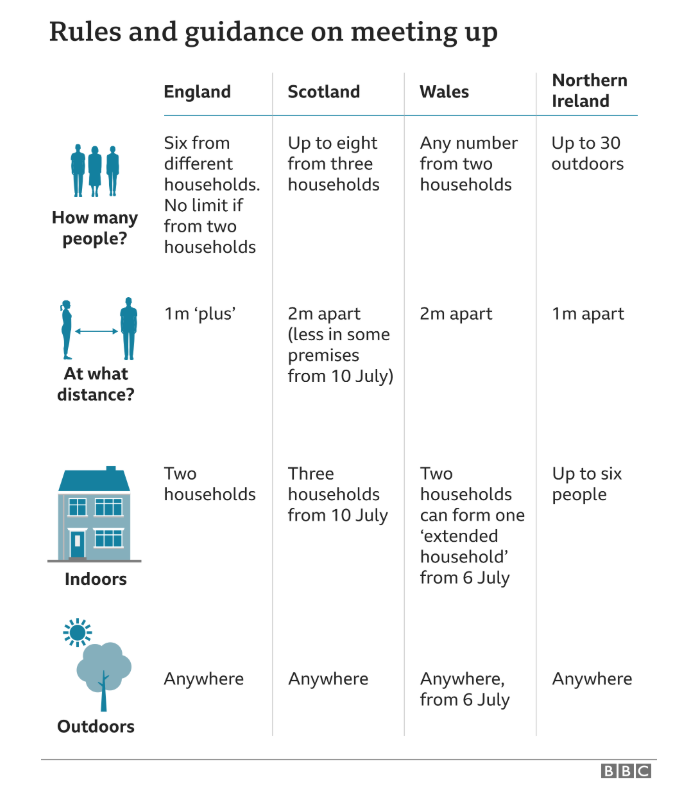 Up-dated 3 July 2020
This advice will be updated as more information becomes available.
We have attached a risk assessment specific to COVID 19 based on a version drawn up by Caledonian Conservation - document this can be downloaded here (330 KB)
We have attached the current best practice advice from CIEEM for its members, which sets out sensible precautions which ARG volunteers may wish to adopt when surveying - pdf this can be downloaded here. (623 KB)