An opportunity to repeat a survey commissioned by Scottish Natural Heritage, and originally published in 1994 (see references).
This was presented at an afternoon workshop at the Scottish ARGs Meeting on 30.10.2021- you can download the recording here
Background
The report 'Status of the adder Vipera berus in Scotland' formed the major part of a wider investigation, initiated by Scottish Natural Heritage (SNH) in 1992 into the status and distribution of the adder (Vipera berus) in Scotland.

The Institute of Terrestrial Ecology, Biosphere Consultancies and the Scottish Agricultural Service were contracted by SNH to carry out this work.

NatureScot wish to repeat the study in the period from 2022-24. The work will be coordinated by Amphibian and Reptile Groups of the UK (ARG UK) and Amphibian and Reptile Conservation (ARC), supported by our Scottish volunteers and reptile ecologists.
We would like to invite you to get involved!!
The 1994 report presented a review of the available literature to determine the past distribution of the adder in Scotland, and put the Scottish Adder population into a wider European context. It then reported on the result of two questionnaire surveys conducted in 1992 and 1993 to investigate the present status and distribution of the adder in Scotland. In total 94% of the Scottish mainland including the inner isles were covered by the two surveys.
Two questionnaires were run:
Farm survey: targeted individual farms - using Ordinance Survey Landranger maps (1:50:000), 2 farms were selected per 10 x 10 km square in mainland Scotland and the inner isles. 1,002 farms were selected for follow up and 1,952 surveys sent out during the 2 years of the project.
ITE survey: targeted groups of people with an interest other than farmers. 2,115 questionnaires were sent to 1,439 addresses of individuals, NGOs and statutory bodies across Scotland. 723 usable returns provided 2,708 pieces of information on adders, slow-worms and common lizards in Scotland.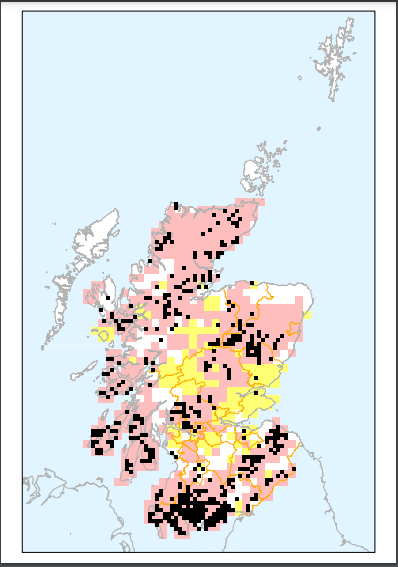 Results indicated that:
There was strong evidence of a perceived decline in adder abundance during the 10 preceding years (1980s). There was less strong evidence that the overall distribution of adders in Scotland had changed, but the Farm survey results suggested that their distribution in farmed areas had contracted.
Both surveys indicated that over the preceding ten years there were significant changes in land use, primarily attributed to afforestation, and changes in agricultural practice on farms e.g. 'set-a-side' and increased cereal production.
A habitat suitability model developed by the project relating reptile distribution to the ITE Land Class survey showed that:
Intensively arable regions and rugged mountainous areas either side of the Great Glen were least suitable for adders.
Adders are strongly associated with heterogeneous land.
Habitat is suitable for the common lizard across much of Scotland. They prefer varied lowland areas and steep mountain slopes in highland regions. Generally absent from arable and mixed farmland.
With the exception of the Western Highlands, Scotland is generally unsuitable for slow-worms (Note: this restricted distribution was disputed by a number of experienced reptile surveyors in the workshop session - and thought to be an artefact of the difficulty in spotting slow-worms during surveys, unless using refugia)
We will repeat these questionnaires to determine how things have changed in the intervening period.
Key to the diagram: Adder data from 10 km2 questionnaire data (Reading et al.,1994) plotted to show presence (pink) and absence (yellow). Overlaid with additional survey data from 5km2 gathered from NBN Atlas, NARRS etc. since 2000 (black) (copyright McInerny and Minting, 2016)
Reference: The Amphibians and Reptiles of Scotland by Chris McInerny and Pete Minting, Published by GNHS; download it from www.gnhs.org.uk/books.html
Field Survey – 1993: Methods
In 1993, 16 volunteer surveyors monitored 16 sites across Scotland to establish baseline information for monitoring changes in adder status.
An initial pilot of 12 sites based on random squares did provide any suitable data.
16 new sites were selected from the questionnaire responses as 'good' for reptiles, and to give a distribution across the mainland and inner isles.
Mean search time was 60 minutes per site, and all reptiles were recorded.
Each site was visited from between 2-12 times; a total of 97 visits.
Field survey 2022 - 2024: Next Steps?
We will re-survey the 16 sites - and we may identify additional sites that are thought to be of special importance or 'fill in' the gaps
We will organise land manager permissions.
We would like to match a small teams of volunteer surveyors with each site.
Ideally the team of surveyors will visit each site on 6-8 occasions in each season – but we appreciate that some sites present more of a logistic challenge, and the weather in Scotland can be unpredictable. So let us know what you can do.
Please indicate what you think you would be able to undertake in 2022 and 2023 adder seasons (February – August)
We do have a small travel budget, so will be able to provide additional support for the survey visits
Can you help survey these sites – tell us about any that you would like to be involved with
Map is copyright Caledonian Conservation
If you think that you can help please contact:

This email address is being protected from spambots. You need JavaScript enabled to view it.



References:
McInerny, C.J. & Minting, P.J. (2016). The Amphibians and Reptiles of Scotland. The Glasgow Natural History Society, Glasgow, Scotland. 320 pp
Reading, Chris & S.T.Buckland, & G.M. McGowan, & Gorzula, Stefan & Jayasinghe, G. & Staines, B.W. & Elston, D.A. & Ahmadi, Sunita. (1994). Status of the adder Vipera berus in Scotland. Scottish Natural Heritage, Research, Survey and Monitoring Report No. 38
The Scottish Adder Project is supported by: