The Vanishing Viper: Priorities for adder conservation
Saturday, 08 Oct 2016 09:30 – Sunday, 09 Oct 2016 16:00

Location:

Draycott Memorial Hall, Latches Lane, Draycott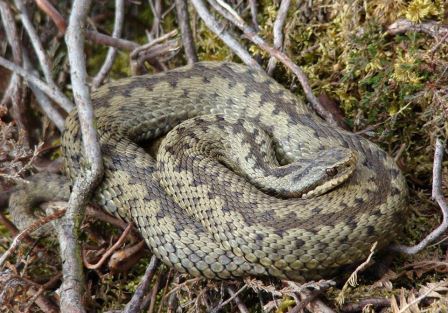 A National Meeting
(Adder image copyright Paul Hudson)
Amphibian and Reptile Groups of UK (ARG UK) and Amphibian and Reptile Conservation (ARC) are proud to be able to announce the first national adder meeting. The meeting will address all aspects of adder conservation with a mixture of presentations, workshops, interactive sessions and posters. Session themes will include:
Strategic challenges and solutions for adder conservation
Insights from survey and research
Managing landscapes sympathetically for adders: opportunities and challenges
Public interactions with adders – what messages should we be broadcasting?
Site protection, regulation and policy issues
Mitigating development impacts
Prioritisation of threats and conservation actions for the adder
We will be hearing from a range of adder specialists including: Jim Foster (ARC), Steve Langham (SARG), Nigel Hand (HART), Richard Griffiths (DICE), Tony Gent (ARC), Trent Garner (IoZ), Rick Hodges (KRAG), Pete Hill & Mark Barber (ARC), Paul Edgar (NE), Liz Howe (NRW), Lee Brady (KRAG), John Baker (Suffolk ARG), John Dickson (RAGS), Chris Cathrine (Caledonian Conservation), Chris Monk (DARG), Jon Cranfield (Herpetologic Ltd), Darryn Nash (DICE), Gary Powell (ARC), Chris Gleed-Owen (CGO Ecology), Mike Phillips (KRAG), Alex Cruickshank (BBOWT), Stephen Corcoran (Cairngorms National Park,) Iain Porter (The Quantock Hills AONB) .
There will be an opportunity to join us on Saturday night at the venue for a special Curry Extravaganza, the perfect opportunity to network and socialise further.
We will also be having a poster session throughout the conference to further showcase adder research and survey findings. So if you would like to present your work please do contact us on This email address is being protected from spambots. You need JavaScript enabled to view it..
Please download a draft programme here:

The Vanishing Viper - programme summary for 8-9 October 2016

For more information and to book your place at this important meeting please register via the orange Eventbrite button, or contact Angie Julian, This email address is being protected from spambots. You need JavaScript enabled to view it..
'The Vanishing Viper: Priorities for adder conservation', is generously supported by: