Froglife Mini Toad Summit
Saturday, 26 Jan 2019 14:30 – 17:00

Location:

The Friends Meeting House, York Street, Bath, England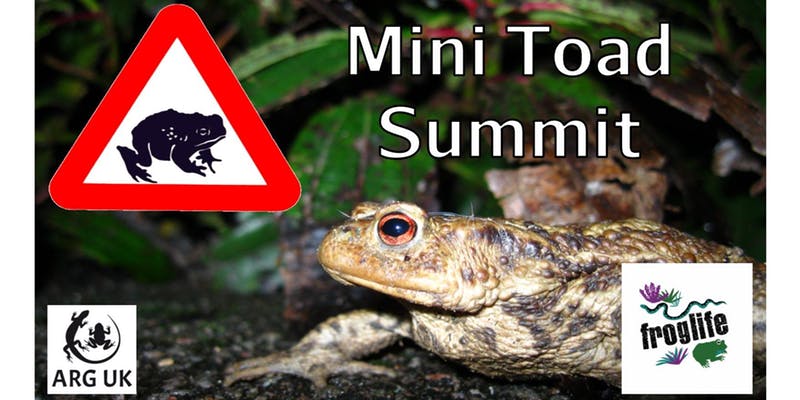 Froglife in conjunction with ARG UK are organising a FREE event for Toad Patrollers and anyone interested in our native toads on Saturday 26th January 2019 at the Friends Meeting House in York Street, Bath, BA1 1NG. This will be a great opportunity to get together, share ideas and learn more about how best to conserve toads.
To sign up follow the link to Eventbrite
Toad Patrols do an excellent job conserving our toads and keep finding new ways of doing it better. The aim of this event is to give our local Toad Patrols an opportunity to share ideas and best practice. The afternoon will include a talk from Angela Julian, Coordinator of ARG UK, talks from local Toad Patrols and plenty of time for discussion. We are aiming to cover: toad ecology, what toads are doing when they aren't crossing the road, helping toads out of drains, recruiting and managing volunteers, signage, road closures, social media, equipment and funding.
This event is for Toad Patrollers and anyone interested in our native toads in Bath and North East Somerset, Bristol, North Somerset, South Gloucestershire and Wiltshire.
Tea and coffee provided.
The venue is fully accessible. Do let us know if you have any special requirements.
Location: https://goo.gl/maps/zCgUzZ4Hpo22
The Meeting House is located in central Bath, 5 mins walk from Bath Spa station. If you come by car, there are park and rides at Newbridge, Oddown and Lansdown. See: https://visitbath.co.uk/plan-your-visit/travelling-to-bath/ for travel options.
***PLEASE MENTION THE ID NUMBER OF THE TOAD PATROL YOU ARE A MEMBER OF (IF APPLICABLE) NEXT TO YOUR NAME ON THE ORDER FORM***
FAQs
How can I contact the organiser with any questions?
Please email This email address is being protected from spambots. You need JavaScript enabled to view it. with your questions