Supported by The National Lottery Heritage Fund, Dragons in the Hills is a new project based in Northern Ireland which aims to conserve some of our priority wildlife species through community action. This is a partnership project with Newry, Mourne and Down District Council (NMDDC), Amphibian and Reptile Groups of the UK (ARG UK), The Herpetological Society of Ireland (HSI) and the Mourne Heritage Trust.
As we come to the end of our second year on the funded project, we are looking back on some of our highlights and achievements. We are pleased to welcome Ryan Montgomery as our new project officer, as our previous project officer Josh Twining was offered a fantastic opportunity to join an exciting post doctoral programme researching the megafauna of North America at Cornell University. We wish him well with this!
Public outreach and training days,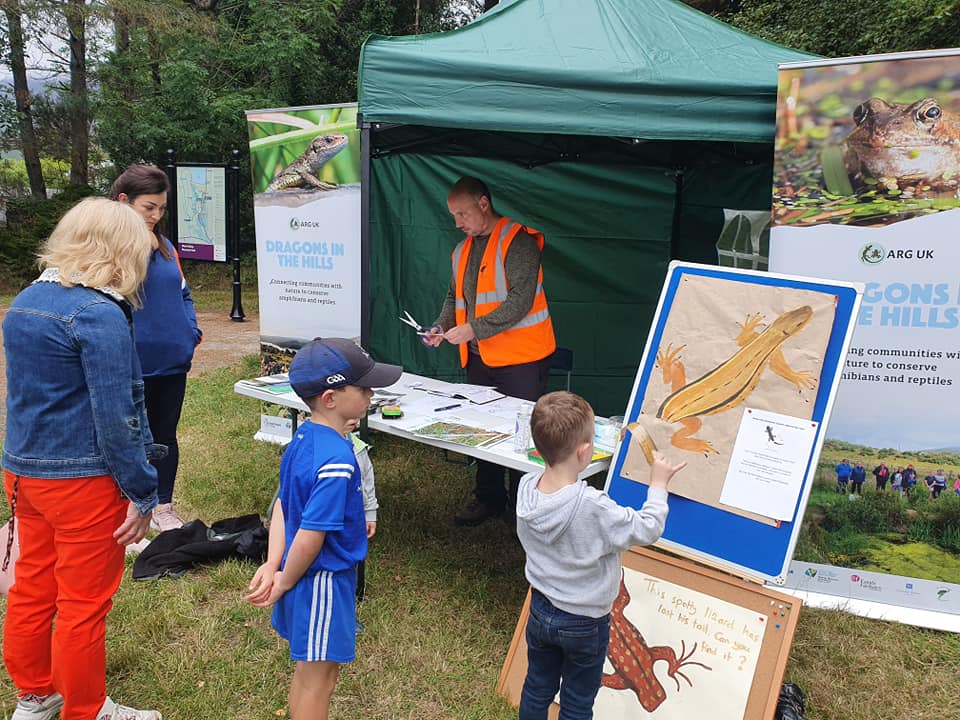 We continued to run our public outreach and citizen science training days throughout the summer and early autumn of 2021 in The Mourne Mountains, and were delighted to welcome over 150 family groups to our very special 'Dragons in the Hills' Days at Silent Valley. As well as lots of fun activities including 'pin the tail on the lizard', and a variety of arts and crafts we were able to introduce participants to our own little Dragons through our guided reptile rambles. For many it was their first magical encounter with Northern Ireland's only native reptile - the Common Lizard.
We have had some fantastic feedback from our outreach days:
"We all had a brilliant morning spotting the lizards and doing the crafts. Thank you very much for the guided ramble and also the tasty lunch bags
"
"Great day the children really enjoyed it
"
Ring of Gullion Arts and Crafts Competition
During the spring of 2021 we ran an arts competition with all the local schools we had worked with in the Ring of Gullion area throughout 2020, and were delighted to receive nearly 100 submissions before the deadline in March. All of the entries were of an exceptional standard and really show-cased the artistic ability, creativity and ingenuity of the school children of the Ring of Gullion. Local artists Dianne Mckevitt and Caolifionn O'Hanlon took on the tough job of deciding on the winning entries, and our talented winners were presented with their prizes by local Councillor Aoife Finnegan at an award ceremony at An Tobar Wellness Centre, Silverbridge in August. As well as prize giving, there was an opportunity to see all of the incredible art work (see below for a selection), and join in with scavenger hunts and guided walks, so a good time was had by all.
Volunteer survey and training
In 2021 we set up 10 new survey transects in the Mournes in partnership with the Mourne Heritage Trust and Northern Ireland ARG volunteers. Small teams have been busy recording and data gathering and we are delighted to report over 175 new common lizard records in 2021.
We have also continued to work with the Friends of the ARC at NT Derrymore House and the volunteers at An Tobar Wellness Centre to create learning trails and habitat for amphibians and reptiles in the Ring of Gullion area. We were delighted to be invited to the John Muir Discovery Award ceremony in December of 2021, where the volunteers were presented with their certificates to acknowledge all the effort and learning that has taken place since September 2020.
Schools' Outreach
Responding to the restrictions imposed by COVID the project developed a series of online seminars for schools entitled "Nature and Biodiversity" using remote software which enables the children, teachers and interested parents to log in remotely, and interact with the rest of the group, whilst observing lockdown constraints.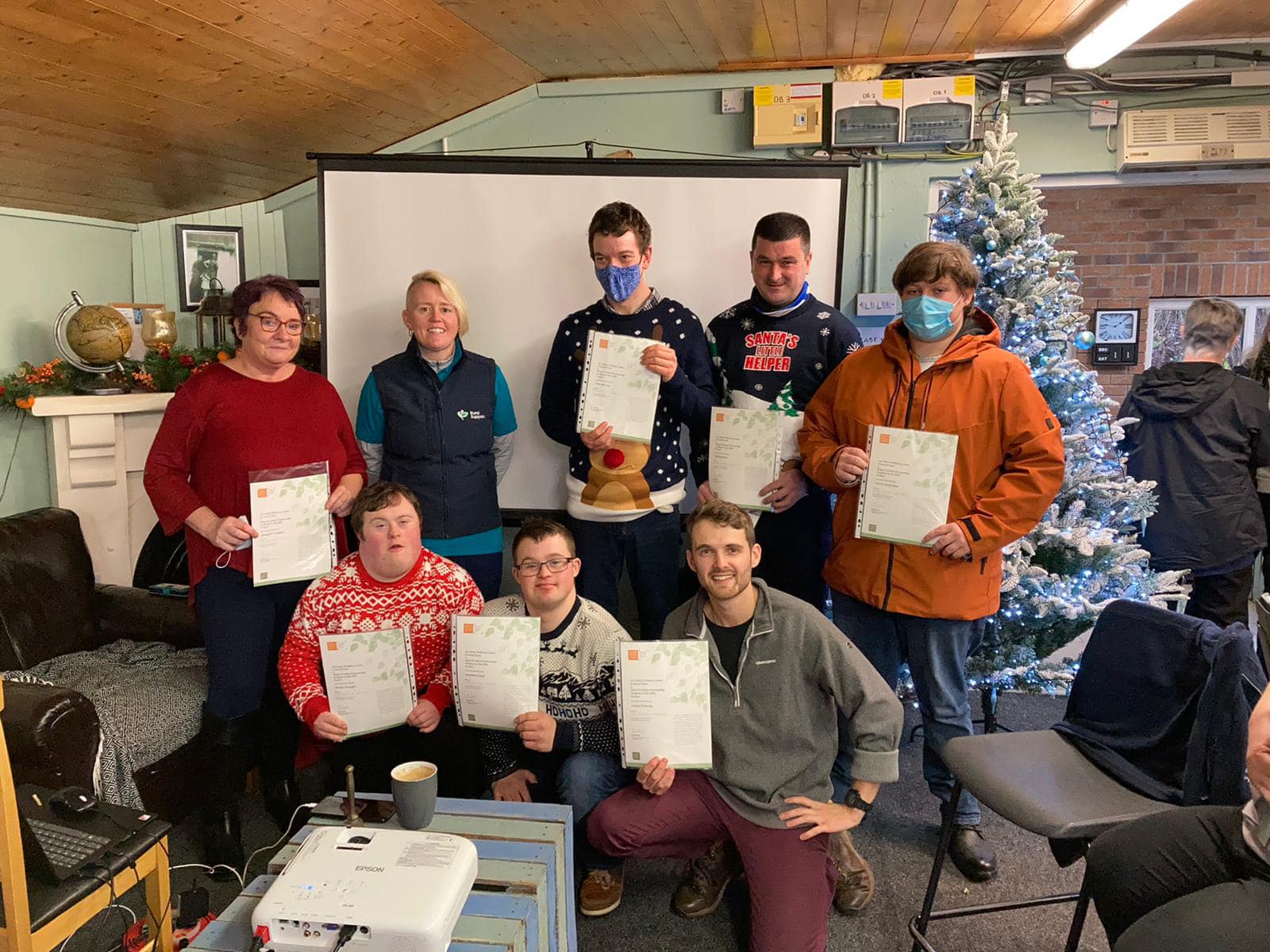 This is a three part series aimed at children P5 – P7. The first two talks in the series are on 'What is nature?' and 'Our place in nature?' and explore the different animal groups and diversity of life with specific detail on animals occurring in the local area. The three taxon groups covered are mammals, amphibians and reptiles. The final part is on 'Conservation: where, what, when', and discusses the importance of conservation and monitoring, and spotlights a few on-going projects in local area, with an emphasis on Dragons in the Hills.
In the latter part of the year the loosening of restrictions has enabled our project officer, Ryan Montgomery to visit schools and deliver face to face 'reptile days' - which have been very well received by children and teachers alike. In 2022 he will be expanding these sessions to schools throughout the Mournes and Strangford and Lecale, and as we come into spring there will be a greater emphasis on our two native amphibians, the common frog and smooth newt.
Working with Land Managers and Habitat Creation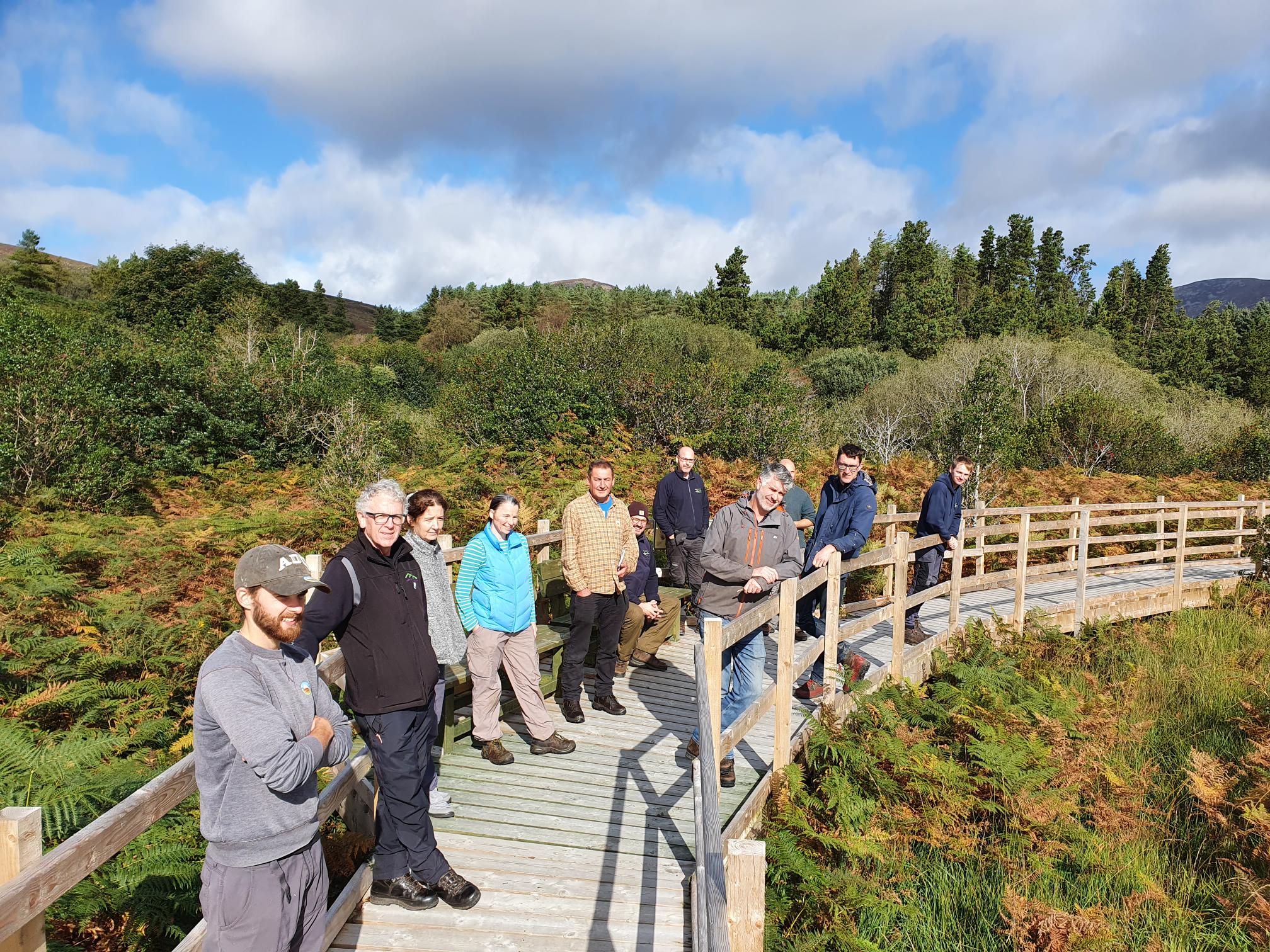 A key part of the project is to work with volunteers and local land owners and managers to improve habitats for our little dragons - by creating ponds, brash piles for shelter and hibernation spots, and more suitable habitat for our common lizards. We are delighted to have been able to partner with An Tobar CIC at Finnegan's Nursery Silverbridge, Bluebell Lane Glamping, National Trust Derrymore House, Red Branch Bushcraft to run a series of events including regular habitat tasks with community groups in NMDD. Thanks also to The John Muir Trust for additional support, to help us engage with groups with additional needs.
In 2021 we were also delighted to be able to partner with the Mourne Heritage Trust. Ryan and Rob Gandola from the Herpetological Society of Ireland were able to deliver the first of our training sessions to their rangers in October 2021 to raise awareness of managing habitats for amphibians and reptiles.
Information and ID leaflets
We have designed, produced and printed a brand new leaflet with more information about our native herpetofauna - the viviparous or common lizard, the common frog and smooth newt. Available in English and Irish language versions, these can be downloaded here. Printed versions are also available on request (email This email address is being protected from spambots. You need JavaScript enabled to view it.):

English language version 'Dragons in the Hills - the amphibian and reptiles of Northern Ireland'
Irish Language version 'Dragain sna Cnoic Amphaibiaigh agus reiptílí Thuaisceart Éireann'
With grateful thanks to Brett Lewis, Kevin Clarke, Gary McParland and John Baker for their fabulous photos, Ursula Mhic an tsaoir for her very kind translation of the Irish language version, and Dani Green for her innovative design. (Award ceremony photo copyright An Tobar).
And here is a selection of the amazing art from the schools of the Ring of Gullion: